House Hasson - Fall 2023
Sevierville Convention Center
Stop and see us at the Market! Booth #3
Click any of our flyers below to view our Market Special Pricing. All pricing is valid until 10/31/2023. If you have any questions or would like to setup a live zoom video call please call us at 877-289-2824 or email sales@watcherprotect.com.  You can also chat with us by clicking:
We are in the office and ready to assist you with any of your Loss Prevention needs.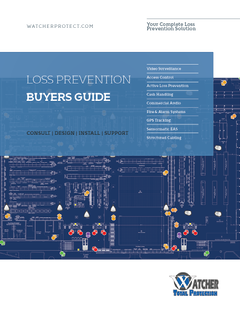 Watcher Buyers Guide
Our buyers guide has a listing of all of our loss prevention products and services.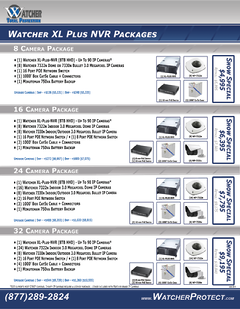 Our Watcher XL NVR is our flagship surveillance system. This system is able to integrate with Point Of Sale (Epicor, ECi, Paladin, Spruce, TransAct and many more). Some other features include real-time analytics, multi location viewing/playback, facial recognition and support for over 100 IP cameras on a single system.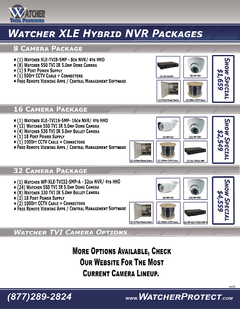 The Watcher HD TVI series NVR allows for HD video up to 8 Mega Pixel resolution over exiting coax lines. This is great to replace an existing system that already has coax cable ran. Our Watcher IP NVR allows for up to 32 IP cameras on an easy to use platform.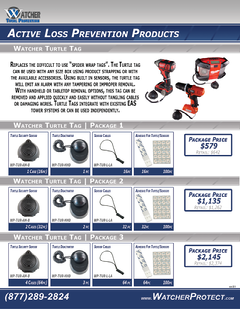 The Watcher Turtle tag is the best way to protect your customer use display merchandise. Watcher Turtle is great to protect displayed power tools, outdoor power equipment and endcap displayed tools. Pair the Watcher Turtle with our Poly Strapping machine and you are able to protect your boxed merchandise. 
Our Fall 2023 Sensormatic package options. The Ultra 1.8 tower is able to protect an opening up to 6ft wide. The Sensormatic Synergy 1180 protects a door opening up to 8.2ft wide using two towers. We are a full line Sensormatic stocking distributor/partner. We can help with any of your Sensormatic needs including service and install!
Count cash fast with our line of Tellermate cash counting machines. These cash counters are able to count a cash drawer in under a minute saving time while increasing accuracy.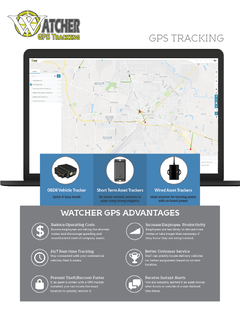 GPS Promo Flyer
We have GPS trackers to fit any need from tracking delivery vehicles to rental equipment an assists. Our easy to use website and mobile app allow users to track equipment and receive alerts.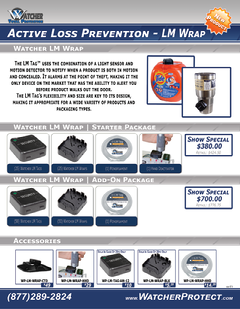 The Watcher Wrap is great for protecting small boxes like Smart Light Bulbs and Thermostats. Easily removed at check out the LM helps keep your products safe from theft! 
 Don't see what you are looking for or have questions?? Give us a call, (877)289-2824. We can help with any of your loss prevention needs.