Video Surveillance
At Watcher Total Protection, we offer a variety of products to protect your business or home assets. Please use the links listed above to view our product selections, download technical specification sheets and view tips on product applications and installation. Our DVR page also offers downloadable versions of both our Quick Start Guide as well as a detailed DVR Instruction Manual.
Watcher Video Surveillance Partners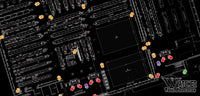 Design, Consult & Install Services
Not sure what you need to protect your business? Watcher can help with our Design and Consultation services. Let us help plan the best protection plan for your location. Watcher also can provide full Nationwide turn key install.
More Info